JPClock is an application designed to reproduce a Japanese clock (Wadokei) used in the Edo period (1603-1867).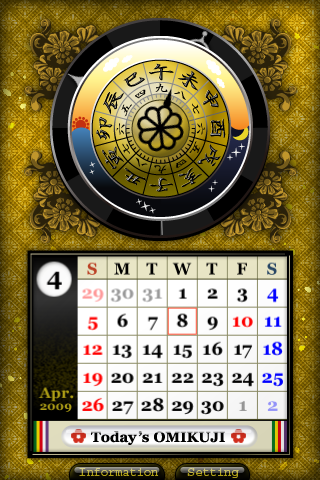 The Wadokei is a Japanese clock used to count time by dividing the day in six units from sunrise to sunset, and by dividing the night in six units from sunset to sunrise.
The temporal hour is a traditional Japanese timekeeping practice that was established with the lifestyle of the Edo period. Work while the Sun is up, and the day ends at sunset.
The oil used for home lighting was expensive in this period. Living with the sun cycle was economical.
Check Japanese clock(Wadokei) on Wikipedia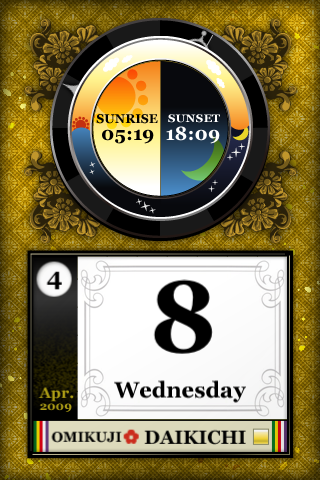 JPClock uses the iPhone's GPS function and measures your position (latitude/longitude) in order to reproduce the Japanese clock.
It also contains a normal clock and a calendar, so you can use the application as a desktop clock or calendar. (Supporting the screen rotation)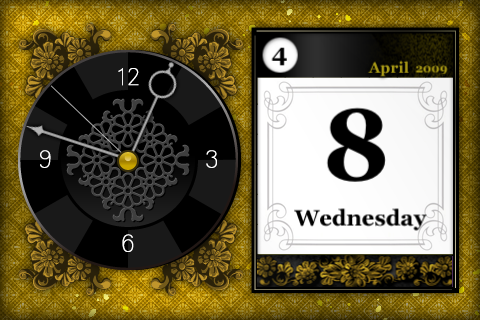 — New functions for iPhone OS 3.0 —
Added the new function using iPod Library for iPhoneOS 3.0.
You can change setting to play music in iPod library
* as BGM (playing music during application running)
* as Alarm (playing music at the time when you set it)
* at the time of sunrise
* at the time of sunset
* at the time of sun noon
Because application does not work in the background, these setting is effective only for application run time.
— Main functions —
* Clocks (normal/wadokei/sunrise & sunset time display)
* Calendar (monthly/daily)
The monthly calendar displays the current week, as well as the previous week and the upcoming 3 weeks, for a total of 5 weeks on screen.
*Clock ( or calendar ) type is changed by touching clock ( or calendar ) area.
* Display the sunrise/sunset/solor noon time
* Specify the latitude/longitude using GPS
* Specify the latitude/longitude from a built-in list of locations
* Screen lock ON/OFF
* National holidays of 2012 for Japan, United States and United Kingdom are shown (names of holidays are not shown at this moment)
* Cooperative fortune application
- Daily fortunes will be shown on the monthly calendar
- Installation of "Omikuji" application is needed to activate
* Supporting the screen rotation (portrait/landscape)
— Built-in locations —
Abidjan / Cote d'Ivoire
Addis Ababa / Ethiopia
Alexandria / Egypt
Athena / Greece
Auckland / New Zealand
Bangkok / Thailand
Barcelona / Spain
Beijing / China
Berlin / Germany
Bogota / Colombia
Brussels / Belgium
Budapest / Hungary
Buenos Aires / Argentina
Cairo / Egypt
Cape Town / South Africa
Chicago / U.S.A.
Christchurch / New Zealand
Colombo / Sri Lanka
Dubai / UAE
Fukuoka /Japan
Guatemala City / Guatemala
Hanoi / Vietnam
Helsinki / Finland
Ho Chi Minh / Vietnam
Hong Kong / China
Istanbul / Turkey
Jakarta / Indonesia
Jerusalem / Israel
Kolkata / India
Kuala Lumpur / Malaysia
Kuwait / Kuwait
Lima / Peru
Lisbon / Portugal
London / England
Los Angeles / U.S.A.
Madrid / Spain
Manila / Philippines
Marseilles / France
Melbourne / Australia
Mexico City / Mexico
Milan / Italy
Monaco / Monaco
Montevideo / Uruguay
Moscow / Russia
Munich / Germany
Naha / Japan
New Delhi / India
New York / U.S.A.
Osaka / Japan
Ottawa / Canada
Panama / Panama
Paris / France
Perth / Australia
Plymouth / England
Prague / Czech Republic
Pusan / South Korea
Rio de Janeiro / Brazil
Riyadh / Saudi Arabia
Rome / Italy
Saint-Petersburg / Russia
San Francisco / U.S.A.
San Jose / Costa Rica
Sao Paulo / Brasil
Sapporo / Japan
Seattle / U.S.A.
Seoul / South Korea
Shanghai / China
Singapore / Singapore
Stockholm / Sweden
Sydney / Australia
Taipei / China
Tokyo / Japan
Ulan Bator / Mongolia
Vancouver / Canada
Vladivostok / Russia
Warsaw / Poland
Washington / U.S.A.
Wien / Republic of Austria
— Other Screenshot —